In Person:
Marketing Club meets Tuesday nights at InSights Clubhouse, from 7pm-9pm  for two hours of discussion about marketing and big thinking! Let us know if you are interested in finding out more about the in person Tuesday night experience by sending a comment below. The first month is on us – and contributions are $100/month to participate. While there is no attendance requirement, if you commit to the group we expect to see you weekly – (though we understand occasionally you may miss a meeting). This is a regular and committed group – accountability to the group, and most importantly yourself is a must!
Not Local?
Join us on Facebook in our Organic Marketing Club Anyone/Anywhere who is interested in Marketing is welcome!
Either Way: To Get Started:
1: Watch the Organic Marketing Explained Webinar: https://www.youtube.com/watch?v=5XWCYk3x9BY
1a: Here is a playlist of Organic Marketing Videos with further explanation about each square: https://www.youtube.com/playlist…
2. Read this book: Organic Marketing: A Guide to Defining Your Certain Way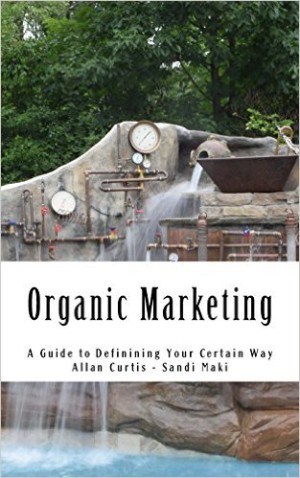 It was 20 years ago when Al Curtis, "Ask the Pool Guy," became owner of a swimming pool construction/service company. At the age of 26, Al already had seven years of experience in the business and was technically skilled at the work, but was woefully unequipped to handle the business end of things. By sheer grit and determination, Al said "yes" to most anything, handling every lead and trying to turn every phone call into revenue. Customer service was disorganized, and the crews ran from job to job based on who was complaining the loudest. It was no way to run a business, let alone create long term satisfaction.
A few years in and Al had managed to put together some solid and friendly crews, and the business was doing okay. But there was something lacking; there was no "special something" that set Al's company apart from any other competitor in his market. After nearly a decade of this, Al was ready to let it go and try something new. Around this same time, I came in as a partner, through a series of coincidences that seem improbable in hindsight. We continued to work to grow the company for a few years, then decided to step away from the pool business for a while and create Insights Group, a business networking community of like-minded people all focused on finding "a better way" to work, to live and to be happy. Then something funny happened. Turning our attention away from the pool business allowed Al to set aside everything he knew and felt about it.
Al found that he truly did love the work he was doing; he just needed to find a new way that would be more manageable, more profitable and, yes, more fun. So we began asking ourselves: WHAT IF? What if we could build a company strictly doing the work we love to do? We decided that was the path we would take. We didn't have a map, so we invented one. Through our process that came to be known as Organic Marketing ™ we began to discover how all the pieces of this new way of doing business could work together. We started with our Why followed the path as our Guide to Defining Our Certain Way. This book you are reading outlines the journey.
3: Watch Simon Sinek Explain Start with Why: https://www.youtube.com/watch?v=u4ZoJKF_VuA
Start with Why
4. Take the Personality Assessment:Personality Study Handout-1
5. Read Wallace Wattles or Listen to the Audio – Click any of the images below: